Gmail has enjoyed phenomenal success, and whatever study you choose to consult for exact numbers, there's no doubt that Gmail is leading the pack when it comes to market share. For some circles, Gmail has become synonymous with email, or at least webmail. Many appreciate its clean interface and the easy ability to access their inbox from anywhere.
But Gmail is far from the only name in the game when it comes to webmail clients. In fact, there are a number of open source alternatives available for those who want more freedom, and sometimes a completely different approach to managing their email without relying on a desktop client. You will still need a mail server to use with these clients. If you don't have a favorite yet, look for an upcoming post with a few options to consider.
Let's take a look at some of the free and open source webmail clients available that you can choose from.
Nextcloud
Nextcloud is often thought of as file sync software (like Dropbox) but it's more than that. By default, it is a kind of virtual drive in the cloud. Significantly, "the cloud" in this context can be your own server. Besides being an interface to your online storage, it has a rich plugin system that lets you run web applications for everything from chat to mail.
The mail plugin does not provide a mail server. It's just a webmail client, but it connects to a variety of email systems. If you are running Nextcloud on a server to which you have sudo or root access, it is possible to configure Postfix or a similar mail server and use the Nextcloud mail application as a front-end. Better yet, the developers at Nextcloud refrained from reinventing the wheel and use the libraries of the popular Horde email client.
Horde
More than just an email client, Horde is full-fledged, enterprise-ready groupware. The Horde Suite is browser-based and includes web apps for reading, sending and organizing emails, managing and sharing calendars, contacts, tasks, and notes. In addition, the Horde project provides a PHP framework with libraries and applications to create a custom working environment.
Like the Nextcloud email app, Horde doesn't provide a server, so you'll still need an email host, or you can run your own. However, Horde offers a robust experience (you can demonstrate this for yourself on their site) for handling your online life, and its user interface is excellent on desktop and mobile.
Round cube
Roundcube is a modern webmail client that easily installs on a standard LAMP stack (Linux, Apache, MySQL, PHP). It has a drag-and-drop interface that generally looks modern and fast, and comes with a host of features: predefined answers, spell check, translation into over 70 languages, a template system, tight logbook integration. addresses and many others. It also has a pluggable API for creating extensions.
Roundcube is available in open source under the GPLv3.
Roundcube screenshot courtesy of the project website.
Zimbra
The next client on the list is Zimbra, which I have used a lot for work. Zimbra includes both a webmail client and an email server, so if you are looking for an all-in-one solution, this may be a good choice.
Zimbra is a well-maintained project that has been hosted in a number of different entities over the years and was acquired by Synacore in 2016. It features most of the things you would expect from a modern webmail client, from webmail to folders to contact lists to a number of pluggable extensions, and generally works fine. I have to admit I'm more familiar with an older version of Zimbra, which at times seemed slow and clunky, especially on mobile, but it looks like the newer versions have overcome these issues and provide a clean and crisp interface regardless of the device you are using. A desktop client is also available for those who prefer a more native experience. For more on Zimbra, check out this article by Olivier Thierry of Zimbra, who shares a lot more about Zimbra's role in the open source community.
Zimbra's web client is licensed under the Common Public Attribution License and the server code is available under GPLv2. S
Zimbra screenshot courtesy of Wikicommons, licensed under CC-BY-SA.
Rain loop
Next, Rainloop. Rainloop is a very modern entry into the webmail arena, and its interface is significantly closer to what you might expect if you're used to Gmail or some other commercial email client. It comes with most of the features you would expect including auto-complete email addresses, drag and drop and keyboard interfaces, filtering support and many more, and it can easily be extended with additional plugins. It integrates with other online accounts like Facebook, Twitter, Google, and Dropbox for a more connected experience, and it also renders HTML emails very well compared to some other clients I've used, which may have difficulty with complex markup.
It's easy to install, and you can try Rainloop in an online demo to decide if it's right for you.
Rainloop is primarily written in PHP and the community edition is licensed under the AGPL license. You can also view the source code on GitHub.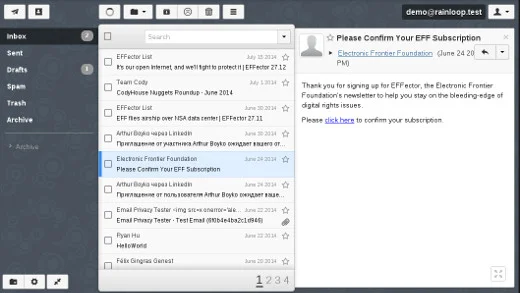 Rainloop screenshot by the author.
More options
Mailspring supports multiple accounts, read receipts, translations, cancel send, and other popular email client features.
Cypht is a lightweight email client and newsreader written in PHP and JavaScript and licensed under GPL v2. It has a unique design to combine multiple feeds (disparate email addresses and RSS feeds) into one.
Mailpile is an HTML 5 mail client, written in Python and available under the AGPL. Mailpile focuses on speed and privacy.
WebMail Lite is a modern but minimalist option, licensed under AGPL and written primarily in PHP. It is feature rich (it can even integrate OpenGPG) but easy to install.
SquirrelMail describes itself as a "webmail for fools". It is light and easy to install and has been around since 1999.
This is by no means an exhaustive list. What is your favorite open source webmail client?
---
Editor's Note: This article was originally published in 2015 and has been updated to reflect changes in available software options.
Are you interested in reading more articles like this? Sign up for our weekly email newsletter.