About seven months ago, Microsoft released the beta version of Outlook.com to help make Outlook inboxes faster, personal, and more efficient. Millions of people have signed up to help shape the experience, and today the new Outlook design will finally roll out of the preview stage (although Calendar and People will remain in beta.)
With the new Outlook.com mail, you can expect all of the original features released in the beta. Microsoft also added updated Skype integration, easier ways to customize and access settings, and improved category organization. Here's what you need to know about the upcoming new features:
It's easier than ever to chat in real time right from your Outlook.com inbox and see all of your contacts. Start an instant message or free video call and participate in multiple chats at once. Just select the person you want to talk to and your conversation will appear in their own chat window.
You can now assign a name and color to each category and apply multiple categories to a single message, for situations where emails belong to multiple buckets. Filtering posts by category is now easier than ever: just type the category name in the search bar or add a favorite category at the top of your left sidebar
With Quick Settings, you can access the most common ways to personalize your inbox with one click. You can change the theme of your inbox, the way conversations are displayed, and manage your targeted inbox. Click the gear icon in the upper right corner of your inbox to view Quick Settings.
Plus, Microsoft has made the add-ins experience easier on the new Outlook.com so you can pin and access them right next to your mailbox. Once a message is opened. other add-ins are available in the drop-down menu of an email by selecting "Get add-ins". You can see it in action below.
If you haven't checked out the Calendar and People beta yet, here's what you need to know: With Calendar beta, you'll notice a smaller footprint and faster ways to navigate a calendar. Thanks to the new event icons, the focus is now more on TV shows, sports teams and other events. You will also notice a simplified event creation, as clicking on "New Event" will now allow you to add details without opening a new window.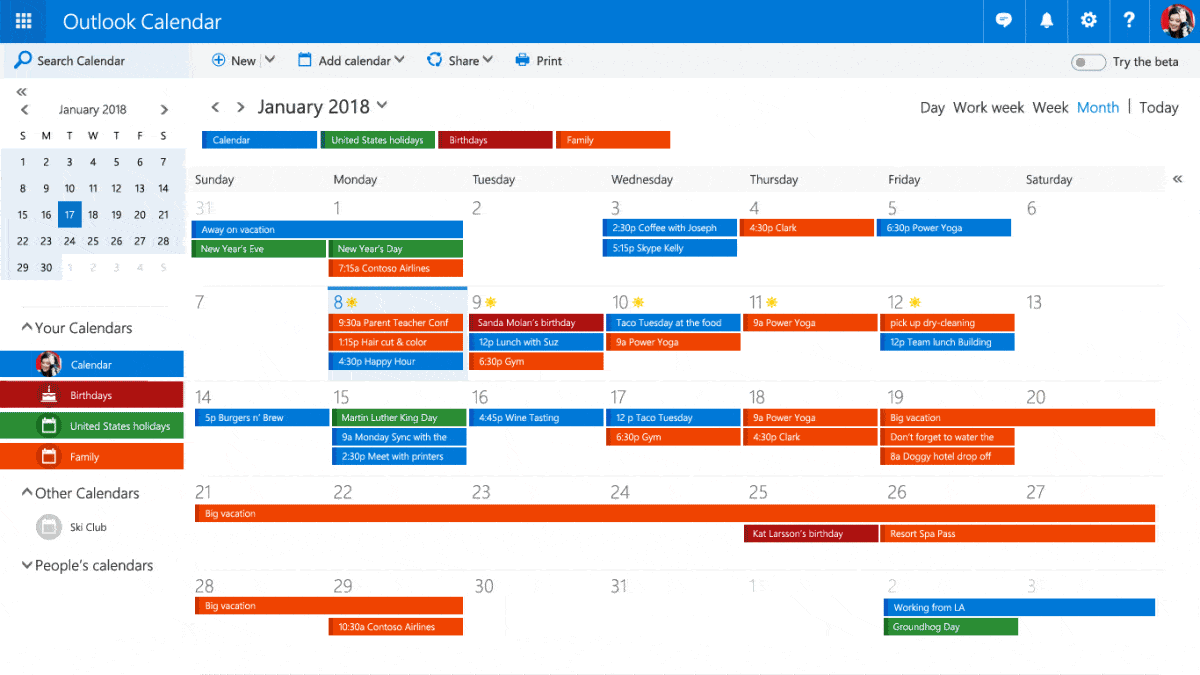 Finally, with the People beta, you'll notice an updated profile card, rich people and messaging integration, and extensive contact information. Microsoft has updated the appearance of profile cards to make it easier for you to mark contacts as favorites and to edit your contacts and contact lists. You will also notice that you can now see recent conversations and attachments from a specific contact at a glance.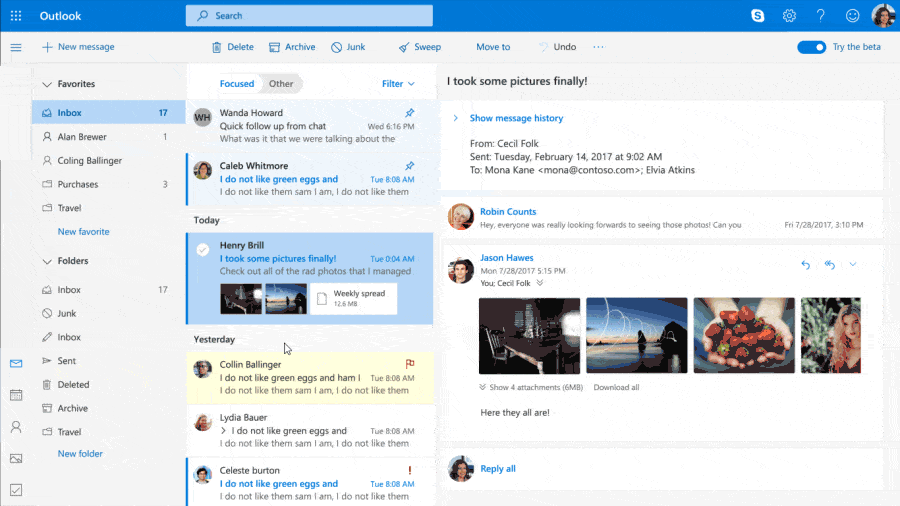 Please note that you will need to enable the "Try Beta" switch on Outlook.com to try out the new People and Calander experience. Microsoft will be rolling out the new Outlook.com mail to all users over the next few weeks, so if you don't see it early on, you may need to keep using the toggle switch. Please feel free to check out these new experiences and share your thoughts with us in the comments below.
Share this post: